Produce, record and live stream daily, monthly or weekly shows to a worldwide audience!
Use vMix to live stream your show all over the world
Creating your own live streaming show has never been easier! It's as simple as having a webcam and an Internet connection and you're able to stream yourself to the world using vMix!
Create a professional production for your fans!
vMix allows users to create professional productions that rival TV programs. You're able to add all the necessary elements to ensure that your production quality matches your awesome content. It's easy to add lower thirds, add intro videos, interviews, images, gifs, audio and much more.
Choose your platform
Stream to any streaming platform of your choosing. Including Facebook Live, YouTube, Twitch, Twitter or a paid provider like Vimeo, DaCast, Wowza, Ustream, Streamshark, Streamspot plus much more. vMix can easily transmit to any of these! vMix also allows you to stream to 3 locations simultaneous so you can reach all of your audience. You can even record while streaming, giving you the ability to upload an edited or higher quality version later on. Need more than 3 streams? vMix can stream to providers including Switchboard or Restream that will give you even more simultaneous destination options.
Create your own brand
As vMix allows you create unique productions and workflows, you can build your own brand and channel. Once you've created your basic production template you'll be able to use it on a daily/weekly/monthly basis!
Interact with your audience with Social Media
vMix being used to produce live animated puppet shows!?
The guys at Digital Puppets use vMix to demonstrate their custom animated puppets with Adobe Character Animator and NDI!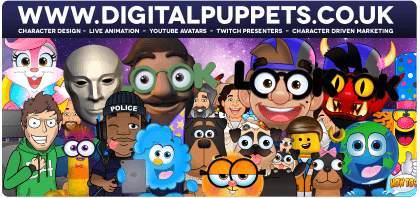 Digital Puppets
Digital Puppets is a studio that offers pre-built and custom animated puppets that can be used with Adobe Character Animator. Digital Puppets is a part of Look Creative Studios which is run by 2 brothers who specialise in character design and animation.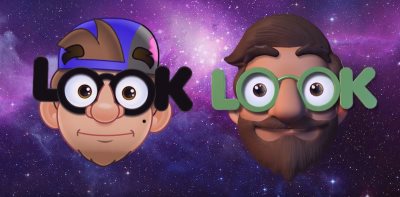 The company creates digital puppet cartoon characters that can be animated by anyone using a webcam, a mic and Adobe Character Animator. These are used by their customers to create live interactive YouTube shows, live gaming reviews and for marketing purposes, be it live shows or exhibitions or on social media. Digital Puppets also uses vMix to produce their tutorials to explain how you can start using live animation in your live productions!
The Setup
Digital Puppets have started a weekly live show using their digital puppet cartoon characters to help people realise the potential of this new way of animating, they run through setups for character design and rigging, live stream setups (using vMix) and answer any questions people have live on air. They are trying to help people to create their own shows using Character Animator and vMix.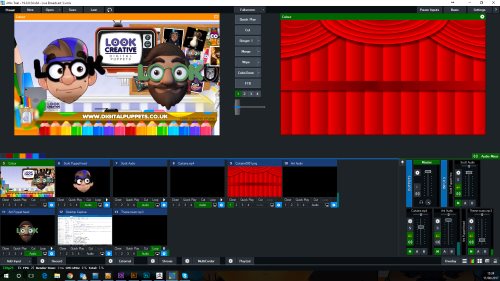 As they are using Adobe Character Animator, they don't actually need any cameras or capture cards in order for them to appear on their live stream! Character Animator just requires them to have a standard HD webcam and a good microphone, they use a Blue Snowball Ice.
They have a 2 computer set up as they typically have 2 characters on the live stream. They are both running Character Animator and using NDI to connect them to the video production.
Computer 1 (PC)
CPU- AMD Ryzen 7 1800X Eight Core CPU (3.6GHz-4.0GHz/20MB CACHE/AM4)
Motherboard- ASUS PRIME X370-PRO
RAM- 32GB Corsair VENGEANCE DDR4 2133MHz (2 x 16GB)
GPU- NVIDIA GEFORCE GTX 1080
1st Hard Disk 480GB HyperX SAVAGE 2.5" SSD
2nd Hard Disk 2TB SEAGATE FIRECUDA 3.5" SSHD
Power Supply- CORSAIR 650W VS SERIEST VS-650
Computer 2 (Laptop)
Medion Erazer X6823
Quad core Intel i7 3630QM processor
Nvidia Geforce GTX 670MX GPU
16GB of DDR3 RAM
128GB SSD
750GB HDD
They have 2 setups, the first is when they're both in the same office. This involves vMix running on the PC and laptop with them connected to the same local network. Both PC and laptop have their own version of Adobe Character Animator installed, they have a layered Multiview input setup for their virtual studio and use NDI input to bring in each character. The laptop is set up in a separate room so there isn't any audio bleed from each other speaking. The second setup involves using vMix Call when they aren't in the same location. They are able to use vMix Call to send the character with a green screen backdrop and then they just chroma key that out and use it like they normally would. This provides an interesting situation where they can use vMix Call to actually interview other people's characters on their live show!
They Stream live to YouTube and will begin streaming to Twitter soon. At the moment they are streaming at 1280 x 720 resolution 25fps and using h264 720p 1.5mbps AAC 96bps. They tend to stick to 1280 x 720 resolution at the moment as the lower resolution helps the characters they use in Adobe Character Animator to run smoother.
The Verdict
"Our experience with Vmix has been great! It has opened up a lot of opportunities for us to create some amazing content, the ability to stream live with ease and now we have a template setup it's as simple as turning on vMix and pressing stream. This allows us time to make a lot more content then we have before, we highly recommend vMix and actively recommend to our customers." - Antony, Digital Puppets
To check out Digital Studio using their puppets with vMix- here's their YouTube page.
vMix being used to produce the monthly vMix Fun Time Live Show
We use vMix here at vMix HQ to produce our monthly live video.

vMix HQ
Many years ago we needed a production solution for a once off event but couldn't afford the expensive hardware solutions available at the time, hence vMix was born! Many years later we are now seeing it used for productions we would never have expected! vMix has come along way since the first versions and that development has given us the ability to create professional broadcasts all from our office studio.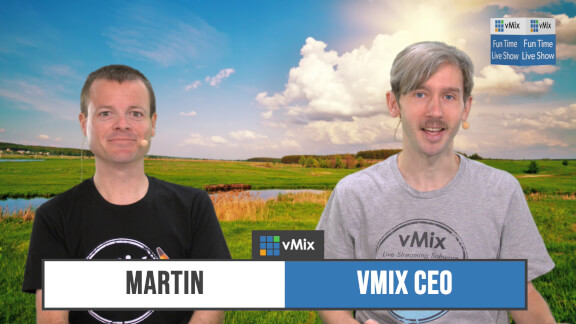 vMix in use for vMix Fun Time Live Show
Since 2015 we have produced a monthly live show from our offices in Australia. We cover production topics, new features, competitions and sometimes nonsense! The shows are streamed out using different providers each month and a high quality version is recorded for a YouTube upload. The show is produced, recorded and streamed on 1 computer and controlled live on air with a MIDI controller or X-Keys.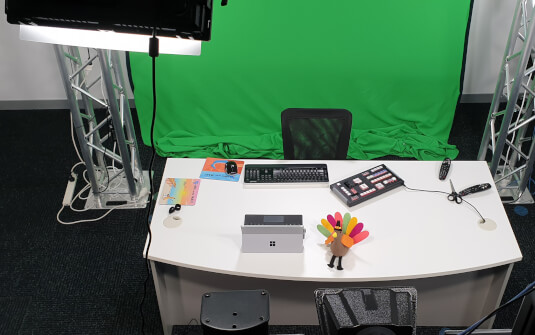 The Setup
Typically the vMix Fun Time Live Show consists of 3 cameras facing the "talent" that are sitting in front of a green screen.
A Blackmagic Design Ursa Mini Gen 2 is used as the main camera
2 Panasonic DVX 200's are used for Martin and Tim's individual shots
We'll often have a PTZ camera from Panasonic, Sony or PTZ Optics being used for another shot somewhere!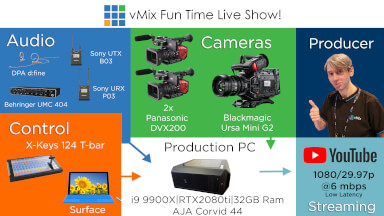 The show uses a fairly well specced computer as we dabble with 4K production. It uses an i9 9900X, GTX1080ti, 32gb Ram and an AJA Corvid 44 for capture. When we first started however, the whole production was produced recorded and streamed on a Laptop (ASUS ROG G750) via an AJA iO4K as the capture!
For audio we use 2x Sony UTX B03 and URX P03 packs for sending and receiving the wireless audio signal from our DPA d:fine microphones. These go into a Behringer UMC 404 via XLR and then all of the audio is managed directly in vMix. All of the controls are done via MIDI or an X-keys with all of the shortcuts programmed into it. Every single production function the show needs gets programmed in. From the Intro video to audio to lower third titles, everything is programmed to make it easier.
There is a basic fabric green screen behind a desk with 6 cheap LED lights pointing to it. 2 TVs sit infront of the desk that are connected to the Studio PC so the vMix interface and output can be viewed. The show is usually streamed out at 1080p to YouTube or a paid CDN and then a high quality 1080p MP4 is recorded at 25MB which is uploaded to YouTube. We create all of our lower thirds in Photoshop and use them each month. We also have a Video Blocks account that allows us to create segment intros and stingers...not that we haven't used Fiverr also! It's pretty cost effective these days to create professional video clips and we make the most of these avenues. We embed the YouTube chat onto our website and then bring in live YouTube comments via vMix Social. As we're in Australia, most of our viewership watches after the fact so we upload the HQ recording to our YouTube channel when we're finished.
The Verdict
When vMix was created it was for a simple camera switching solution, now we're able to create full HD and even 4K productions in our very own office. It's given us the opportunity to connect with our customers, provide regular updates and conduct some production training around popular topics. Much like everyone else, we've learned a lot of things along the way and it allows us to hone vMix and make it even better!
Cruiseweek
Cruiseweek started on cruise ships to document first time cruisers experiences and to broadcast their journey live. They decided to start a weekly webshow where they could interact with followers and bring in guests. They haven't been streaming for too long but have already massed a large number of cruise enthusiasts or cruisenthusiasts.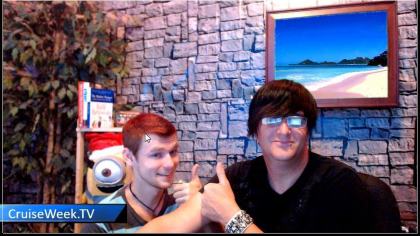 The Setup
Cruiseweek wanted to be able to create a cost-effective solution for their production which meant utilising their existing equipment for the live show. The main camera is a JVC HM200, and they have a couple of c920 HD webcams, just in case that have any issues. They're using an ATI capture device for the production. They already had a powerful PC that they were using for video editing, so they were easily able to install vMix to it! It's a an i7 12 core processor @3.2ghz with 64 GB of Ram. Cruiseweek is using an Avermedia Live Gamer HD c985 for their video capture and They mainly use the shows for guest interviews so they set up a double-box effect with their guest being brought in by Skype. They use a Rhode shotgun mic for the host and have fully rigged up vMix to use the Master and A and B busses for complete audio control.
The show is a 2 person operation with the producer in a separate room controlling the show via MIDI. Zac the producer was happy that control in vMix made his whole job a lot easier, "for $100 and a day of relatively easy setup I had a controller board that could rival the big TV studios, and I was sitting on my coffee table!!". They're able to stream to multiple locations with vMix and then also uploaded the recorded show to any number of places.
The Verdict
vMix has given Cruiseweek a great way to produce a weekly live show with their existing equipment. They have created a great workflow and process for advertising and then producing the stream. Zac says, "I absolutely love the ease of use with vMix and the abilities it has both now and the ones we still haven't even started to use, I can see this will allow us to produce a professional looking show now and years into the future."