vMix can be used for all of your live concerts, conventions or interviews
Not only can you use vMix to help create a great live production for those in your audience, you can now let people from all over the world experience it too via live streaming!
Utilise vMix to create a great live show!
Dazzle your audience with an amazing live production spread out on big screens and external monitors! vMix will allow you to really engage your live audience by adding camera feeds, titles, movies and audio and provide them with a memorable experience! The addition of vMix Social will help you to interact live with your audience as you can display live tweets to those attending. This is great for events such as graduations.
Record your event
If you are conducting a conference or a graduation, then being able to record the event is very important. vMix will allow you to provide a copy of the production to attendees, companies and people that were unable to attend.
Stream your live event....LIVE!
By streaming your event live you're giving yourself the widest possible audience! People can experience your production all over the world and this can enhance your brand and reputation. vMix gives you access to stream to many different providers and up to 3 streaming locations at once! Using vMix social allows you to add social media integration to your production so you can interact live with your audience!
Pardcast-a-Thon 2017 and vMix!
Pardcast-a-Thon is a live streaming 12 hour benefit for Smile Train, an organization that fixes cleft palettes in children and some adults all around the world. To date, Pardcast-a-thon has raised $750,000 for this worthy charity.
The Event
Pardcast-a-Thon is an extended version of Never Not Funny: The Jimmy Pardo Podcast, in which the hosts Jimmy Pardo, Matt Belknap, and for PCAT, Pat Francis, talk with their funny friends about just about anything. This year, guests included John Hamm, Jon Cryer, Angela Kinsey, Rachel Bloom, Jon Ross Bowie, Randall Park, Chelsey Crisp, Lauren Ash, Andy Richter, Mindy Sterling, and many more!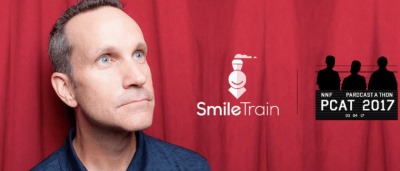 The Setup
For the show, they had a 4 camera setup: 3 XA35 cameras provided by Canon USA, and one Sony HDR-SR1. The Canons were piped into the vMix system from their HD-SDI ports; the Sony used an HDMI port.
A custom system was built based on the vMix sample system template. Gigabyte Aorus 270X Gaming 7 motherboard with an Intel Core i5 6500 32 GHz processor and 24GB of RAM. For capture and output, a Blackmagic Decklink Quad 2 Duo was used.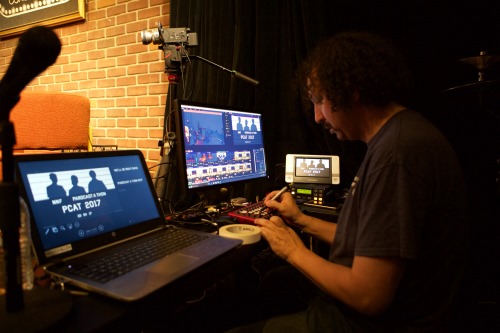 As with a lot of live productions, it was produced by 1 person! Eliot live streamed the 12 hour show to YouTube through the streaming menu in vMix. Over 20,000 people watched the stream, and the resulting video will be distributed for sale to raise more money for Smile Train at nevernotfunny.com.
The Verdict
The Producer, Eliot from INDHD.com, had this to say about vMix. "Overall, using vMix did everything we needed! The system allows for multiple shortcuts, which is key in running this kind of event solo. I don't think I've fully exploited all of the features vMix provides, but the main thing that was key was being able to use the same camera angle for multiple shots. In future, we hope to move up to 4K cameras, and then be able to stream the same way in HD. We also used the external output to record to another redundant system (Datavideo SD hard disk recorder), giving us more flexibility. vMix was rock solid, all of the video stayed in sync with no observable artifacts. I was even able to create new angles during the program when it became clear I needed them. Using vMix was a fantastic experience."
vMix in use at the Winter Film Awards
vMix was used to produce their Indie Film Festival Awards Ceremony & Red Carpet Gala in New York. The ceremony and red carpet was displayed around the venue and streamed mainly to filmmakers and their families who live too far to attend the Festival.
Awards Ceremony & Red Carpet Gala
The rapidly growing Winter Film Awards Indie Film Festival, now in its sixth year, is a dynamic and exciting event in the heart of New York City. The festival showcases films from emerging filmmakers from around the world in all genres with a special emphasis on highlighting the work of women and under-represented filmmakers. Among the 88 Official Selections was an eclectic mix of 11 Animated films, 8 Documentaries, 11 Feature narratives, 10 Horror films, 12 Music Videos, 24 Narrative shorts and 7 Web series, including 12 student films and 33 first-time filmmakers. The festival culminates at the awards ceremony where over 2000 people attend the event find out who receives the $70,000 in prize money. vMix was used to produce the live awards show and stream it to the web.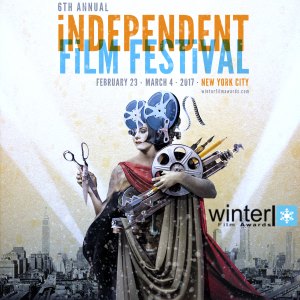 During the past school year, WSN Live had just under 1 million viewers (approx. 903,000). WSN Live has had single events with as many as 16,107 viewers on a given night.
The Setup
As this event was at the 230 Fifth, they needed a portable solution. A laptop based production workflow was created with an MSI Titan Gt73vr and an AJA iO4K. This laptop was more than capable with a GTX 1070, 16Gb ram and SSD storage! At the venue the production was displayed on 2 100" LED screens and 3 projectors all running at Full HD. The event was then streamed out to YouTube and Facebook in 720.
The Verdict
vMix provided a great last minute solution to help with their live video production needs. It really goes to show that can create seemless and professional portable productions easily with vMix. Steffanie from the Winter Films awards- "Thank you again for your incredible support of our project - our event was a huge success, the live switching and streaming went off perfectly and we are very grateful to vMix!"
vMix in use at the Teradek NAB Live Show!
vMix was used to produce the 4-day 2015 Teradek Live Show at NAB in Las Vegas. vMix worked flawlessly through the week to produce the interview style talk show with many industry leading brands. With a reach of over 500,000 viewers, it's a great display of how vMix can be used effectively to reach a large audience.
Teradek Live Show
Beginning in 2012, Teradek began producing a live show from the National Association of Broadcasters biggest yearly trade show dedicated to video production and content creation tools. They used their gear to produce a live show reporting on news generated by vendors from the trade show floor. This show is then streamed live online to provide updates and information for those unable to attend. Over the 4 day stream in 2015, 500,000 viewers watched via Ustream. The whole live production has been powered by vMix in 2014 and continued on in greater strength in 2015!
The Setup
The Teradek Live Show configuration is similar to that which producers choose for sports, concerts, churches, or other live event productions. Multiple cameras, including remote-controlled Camera Corps PTZ units, were set up for the various camera angles of the host and guests. A handheld Sony PXW-X70 was used by the host for close-ups and a final input was brought in for a guest laptop to showcase software interfaces or other product-related information.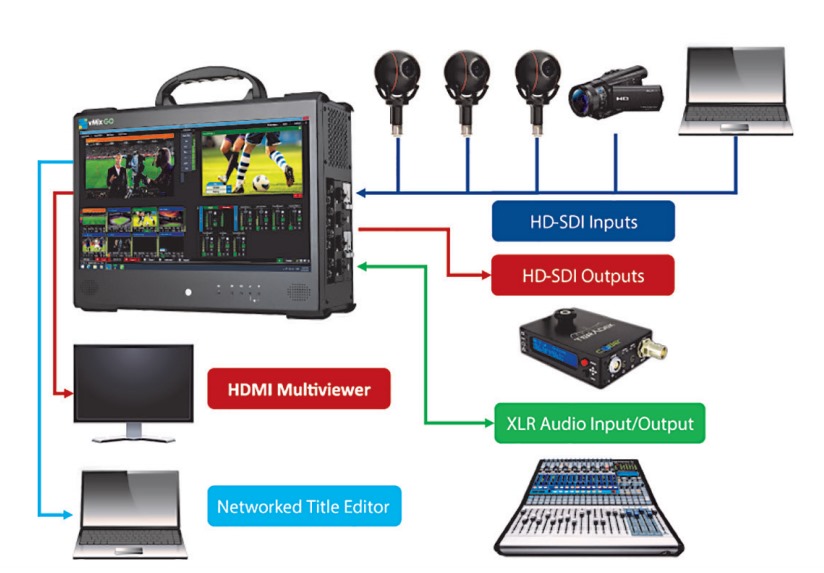 These inputs were then fed into the vMix GO via the 8 input AJA capture card. Finally,the team used the professional, balanced XLR connectors to provide connections to and from a Presonus audio console.
The Verdict
vMix ran the Teradek live show for 4 consecutive 8 hour days with great success. Michael Gailing the marketing director at Teradek spoke about the choice of vMix at the Teradek Live Show, "We have a lot of choices in the industry, anything from Newtek TriCaster to Telestream Wirecast but we go with vMix. The software and the hardware that now comes with it have been phenomenal" . In summing up the show and the use of vMix Gailing said, "It just works, it is affordable, and we wouldn't be able to do the show without it, so thank you vMix!" So if you're looking to produce a great live show and stream to millions around the world, check out vMix!